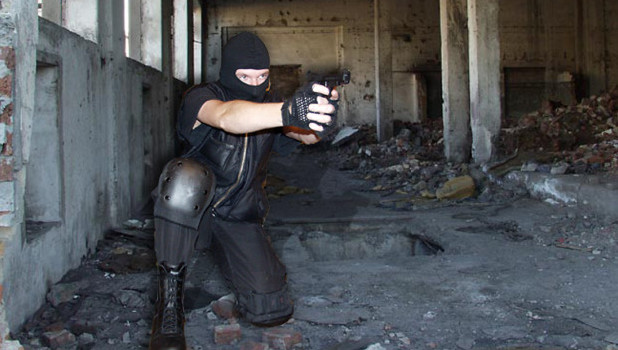 Over the last few years there have been a number of terrorist acts committed in the name of religion. One of the most famous of these are the attacks on the United States on September 11th, 2001. Since that time many more acts of violence by muslim fundamentalists on western nations have been committed. Each other moves the general population and especially the younger generations towards the conclusion that all forms of religious expression are problematic. Why the hate against religion?
We are at war and don't know it…
The majority of humanity doesn't realize that we are at war. It isn't a war that one can easily see since the beings that are waging it are not visible in our dimension. These beings came to our planet thousands of years ago and quietly began conquering the human race to their ideas and way of thinking. At the same time, they waged war against their main enemy, God. The apostle Paul tells us in the Bible in the book of Ephesians that things aren't what they seem to be…
"Put on the whole armor of God, that you may be able to stand against the schemes of the devil. For we do not wrestle against flesh and blood, but against the rulers, against the authorities, against the cosmic powers over this present darkness, against the spiritual forces of evil in the heavenly places. Therefore take up the whole armor of God, that you may be able to withstand in the evil day, and having done all, to stand firm." – Ephesians 6:11-13
The Bible describes this enemy as the devil. More and more people don't believe in the devil. In the first world people have actually been groomed by the enemy to lose their belief in the spiritual realm and the devil and demons in particular. This is a potentially eternally fatal mistake. The devil and his demons have one goal and that is to take as many human beings down with them as possible.
War Started in Heaven!
Whenever you hear about heaven it is usually described as this perfect and peaceful place free from all evil and where there is no pain, no sadness and only joy and happiness at all times. The Bible records a time when heaven was quite different though. In Revelation 12 we find a remarkable account of war breaking out in heaven!
"Now war arose in heaven, Michael and his angels fighting against the dragon. And the dragon and his angels fought back, but he was defeated, and there was no longer any place for them in heaven. And the great dragon was thrown down, that ancient serpent, who is called the devil and Satan, the deceiver of the whole world—he was thrown down to the earth, and his angels were thrown down with him.

And I heard a loud voice in heaven, saying, "Now the salvation and the power and the kingdom of our God and the authority of his Christ have come, for the accuser of our brothers has been thrown down,who accuses them day and night before our God. And they have conquered him by the blood of the Lamb and by the word of their testimony, for they loved not their lives even unto death.

Therefore, rejoice, O heavens and you who dwell in them! But woe to you, O earth and sea, for the devil has come down to you in great wrath, because he knows that his time is short!" – Revelation 12:7-12
Just imagine what that must have been like! A war being fought in heaven, which exists in another dimension, using spiritual weapons. Where there had previously been peace and love, there was now some kind of conflict between the forces of God led by Michael and the forces of evil led by Satan. Angels who had previously only known peace and harmony were pitted on one side of the conflict or another. The ultimate result of this conflict is that the dragon and his angels were cast down to the earth, to our planet.
As the last verse states though, we humans are the ones who are paying the price of his defeat. His defeat in heaven and especially his defeat at the hands of Jesus Christ have assured the destruction of Satan and his demons. As a result, Satan is waging war against humanity in a sort of scorched earth policy seeking to take down as many human beings down with him as possible.
"And you, who were dead in your trespasses and the uncircumcision of your flesh, God made alive together with him, having forgiven us all our trespasses, by canceling the record of debt that stood against us with its legal demands. This he set aside, nailing it to the cross. He disarmed the rulers and authorities and put them to open shame, by triumphing over them in him." – Colossians 2:13-15
Satan can no longer live in God's presence as a direct result of the victory that Jesus won on the cross. He can't reach God anymore to torment and taunt the angels in heaven or God himself. Unfortunately, as is consistent with a mad being, he won't lie down and accept defeat. If he can't reach God, he'll hurt what matters to God. We, God's creation and those whom God so loved (John 3:16) have become the special object of Satan's hatred and attacks.
The True and Faithful Christians Are Satan's Target
The current hate of the world towards fundamentalist muslims is gradually being directed towards hating all fundamentalism in general. Make no mistake about it though, Satan isn't targeting Muslims or Jews or followers of any other religion. The devil is specifically interested in making war with God's true people. Those who will not compromise on the truth as it is found in God's word. Those who believe that God is the creator and is worthy of being worshipped. Christians who would rather offend humans than to offend God.
Satan doesn't hate religion. He doesn't even hate Christianity. Satan hates those who will not listen to his lies and his slander about God. He hates those Christians who will not compromise truth for the sake of unity. He especially hates those who, like Jesus, have surrendered themselves completely to the will of God in their lives and do and say only the things that please God. These people are the real enemy of Satan.
In our next article we will talk about why Satan doesn't just come out and directly attack this specific group? Why the deception? Why this current focus on Muslims and fundamentists in general?